Sunday, September 18, 2011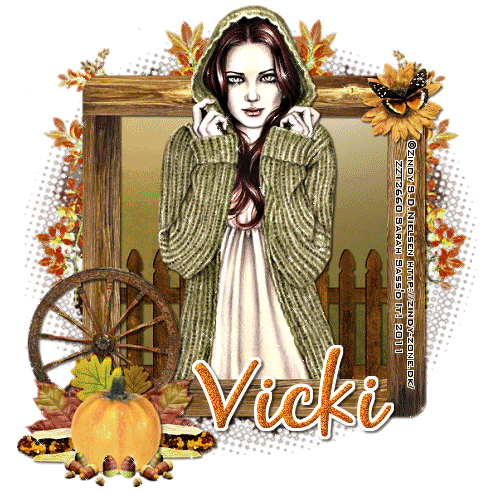 (Click tag for clear view of ©)
For this tutorial, you'll need a working knowledge of PSP.
I'm using PSP 9 but any version should work.
This tutorial is my own and any resemblance to any other is purely coincidental.
Supplies for this tutorial:
PSP (any version)
Scrap kit of choice.
I'm using the PTU kit: Autumn Medley
Tube/Image-I used this beauty from Zindy
You MUST have a license to use these tubes! Do NOT use w/o a license!
Filters: Alien Skin Xenofex2 constellation
Open new image 800*600
Copy the wooden frame
Resize by 65%
Copy
Paste as new layer in your canvas
Select the inside of your frame w/ your magic wand
Selections
Modify
Expand by 4
Copy a paper
Paste as new layer
Selections
Invert
Delete
Select none
Move below your frame
Copy the fence element
Paste as new layer
Move below frame
Erase any that's hanging out beyond the frame
Now select any of the other elements you want to use in your tag.
Remember, you can make this your own!
I used the following:
The different leaves
Branches of leaves
Wheel
Pumpkin
Acorns
Corn
Butterfly
Sunflower
Place each element as desired on your tag
Add drop shadow of choice to each one.
Copy another paper from your kit
Paste as new layer under all other layers
Apply your mask
Merge visible
Crop down and resize
Add your name
© info
Save if you're not going to animate
TO ANIMATE
Make sure you have a white background under your merged image!
I used the following settings on my merged image
Star size: 1.98
Edge: 3
Overall: 0
Overdrive: 100
Twinkle: 100
Copy merged
Paste as new animation in AS
Back to PSP
Undo your constellation effect
Apply again but hit random seed
Copy merged
Back to AS
Paste after current frame
Back to PSP
Undo
Apply constellation again hitting random seed again
Copy merged
Back to AS
Paste after current frame
Highlight all 3 frames
Change speed to 15
Save & enjoy your new tag!
Old Temps
Older templates can be downloaded
HERE

Background created by Sarah-Scrap kit by Just So Scrappy. Powered by
Blogger
.

Lables

Archive

My TOU
By downloading any of my items, you agree to the following TOU: All items I provide on this blog are my own creations. Any resemblance to another product is strictly coincidental. Please do not share anything I create! Do not claim as your own. Give credit where it is due! If you use them for challenges, please link back to my blog. If you use them in tutorials, please link back to my blog. If you use any of my creations, I would love to see it!! Feel free to email them to me, anytime & I will display them on my blog!! Blog: http://sarahstagsthings.blogspot.com/ My Email: Smcmanus44@gmail.com Thank you!!