Saturday, July 31, 2010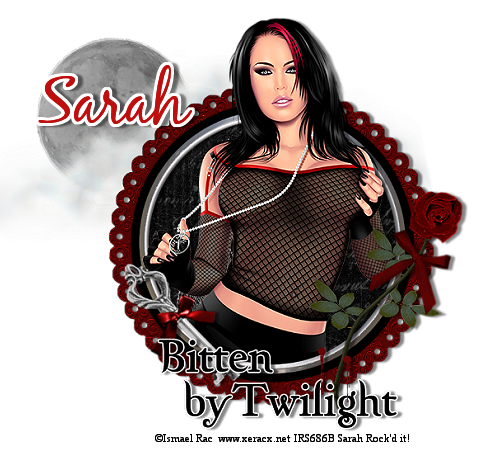 I wrote this tutorial on July31, 2010 using PSP9
This tutorial assumes you have working knowledge of PSP.
Supplies I used:
On to the Tutorial!
Open your canvas-I start with 800x600 (you can always resize later)
Choose a frame>copy & paste into your canvas & resize as desired.
Copy and paste the rose element onto your canvas>resize as needed & place where you want.
Add your drop shadow.
Copy & paste the moon & cloud element into your tag. Resize as needed.
Position behind your frame as you like.
Copy & paste the key element. Resize and place on your frame where you like.
Add your drop shadow.
Copy & paste the word art of your choosing. Resize and place to your liking on your tag.
Add your drop shadow.
Now from your kit, choose a paper for the inside of your frame.
Copy & paste into your canvas. Resize by 60%
Go to your frame layer. Use your magic wand & click INSIDE the circle part of your frame that is empty.
Make your paper layer active.
Selection > INVERT > hit delete.
Move your paper layer underneath your frame layer.
Select none.
Select your tube > copy > Paste into your tag under your frame layer.
Make your frame layer active > duplicate it.
Move duplicated frame UNDER your tube. > Add your drop shadow.
Make your top frame layer active. Erase any part of the frame covering your tube that you don't want covered.
Select your tube layer. Erase any part under the frame that you don't want showing.
Add your drop shadow to your tube.
Marge Visible layers.
Use your Selection tool to crop as you wish.
Now Resize your tag to whatever you want it to be.
*After resizing, I always sharpen my tag.*
Add your copyright info.
Add your name. Add drop shadows & then your done!!
*Save as .png for a transparent background*
This was my very first tutorial! I hope you enjoyed it!!!
Hugs & ♥!! ~Sarah~
So I am pretty siked about this news!!
I am now part of the CT for Crystal's Creations!!
You can find her blog here:
I am UBER siked about this & can't wait to get started making some fabulous tags with her awsome kits!!
So be sure to check me out often
as well as Crystal's blog!!
Friday, July 23, 2010
4:11 PM
|
Posted by ♥-Sarah-♥
|
So I am trying something new. I want this blog to be a collection of my fave creations. And maybe, just maybe, I'll start writing some simple tuts for tags sometime in the future. (*Note-IDK how good I'll be at it, just warning ya.lOl.*)
But, I wanna show off some of my tags, I'm getting better. And I want to show off some of the AWSOME work my friends have done for me as well. So swing by, there's sure to be something new :) .
Old Temps
Older templates can be downloaded
HERE

Background created by Sarah-Scrap kit by Just So Scrappy. Powered by
Blogger
.

Lables

Archive

My TOU
By downloading any of my items, you agree to the following TOU: All items I provide on this blog are my own creations. Any resemblance to another product is strictly coincidental. Please do not share anything I create! Do not claim as your own. Give credit where it is due! If you use them for challenges, please link back to my blog. If you use them in tutorials, please link back to my blog. If you use any of my creations, I would love to see it!! Feel free to email them to me, anytime & I will display them on my blog!! Blog: http://sarahstagsthings.blogspot.com/ My Email: Smcmanus44@gmail.com Thank you!!